Have you been using your sofa for a long time? Don't worry! There is no need to replace it.
With the best services of Sofa Cleaning in Kathmandu, we can make your sofa look and feel brand new.
It will have a fresh smell and feel like you recently replaced it.
How do we make that possible?
By using environment-friendly chemicals to remove stains and possible mites, allergen, and dirt. We have faster and better cleaning techniques for this job.
Sofa or Couch is something that people often tend to overlook while cleaning the house. Your sofa is actually the most used furniture in your house.
Think about it!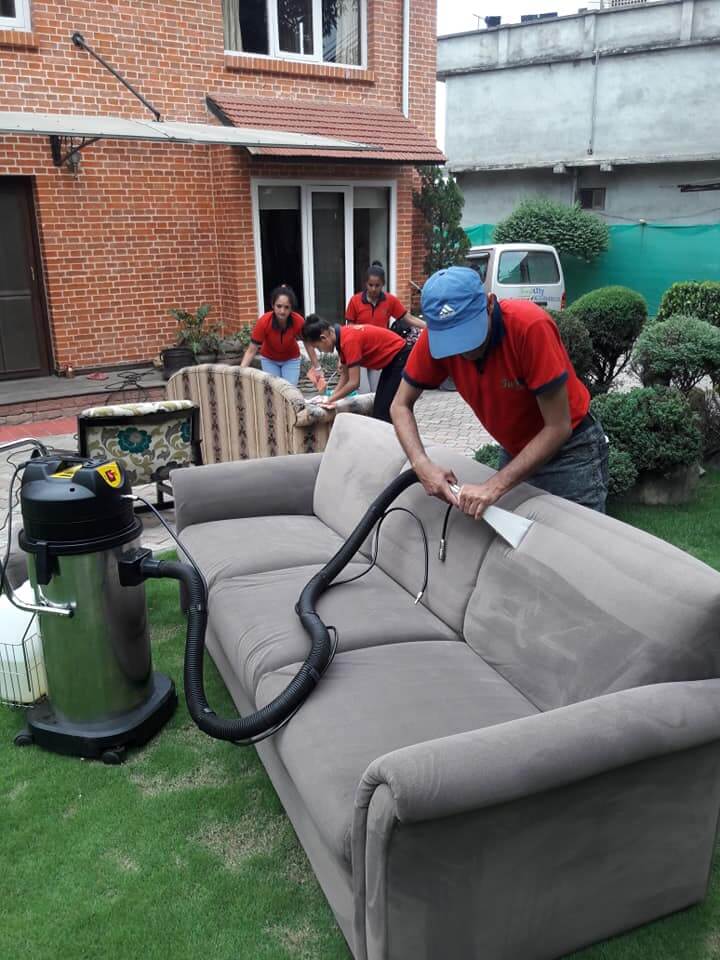 Why Do You Need To Clean Your Sofa More Often?
You use your sofa more often than you use other furniture. So, why not clean it more often?
Besides, it is also the dirtiest furniture as well (if you don't clean it regularly). It is very important that you clean your sofa timely, and not just for the aesthetic appeal. It is also important for health and sanitary reasons.
Your sofa should have a pleasant visual appeal. In fact, it directly affects the entire interior appearance. It is the most vital feature and you need to make sure it's clean and doesn't look old and shabby.
Especially, in offices, where it is used by many employees regularly.
And, don't ignore the health hazards due to possible mites and allergens on your sofa. A dirty sofa can be harmful to the body. If you have pets or kids, make sure you clean your sofa regularly.
Your sofa has dirt and dust from heavy traffic. So, the primary reason should always be cleanliness. Clean and warm water should do the job!
Why Choose Facility Service for Sofa Cleaning in Kathmandu?
Professional and experienced sofa cleaning in Kathmandu
Modern cleaning methods
Improved chemical protection
Well trained experts capable of handling any sofa and couch
Friendly and reliable team of staff that ensure maximum satisfaction
Advice on further sofa maintenance
With our improved cleaning solution, we make sure every nook and corner is dust and stain-free. Our cleaning equipment has the potential to combat the toughest stains, no matter how stubborn they might be.
What more?
When our experts are at work, you need not worry about the decay or discoloration of your sofa. We assure you of the same color and quality of your sofa after we are done.
Thus, we are proud to say that we deliver the best policy without damaging the product. And, this is true for our sofa, carpet cleaning and house cleaning services as well.
How Do We Clean Your Sofa?
Our sofa cleaning process is quite straightforward. However, the job can be hectic as it needs a hands-on and time-consuming effort.
We start the job by gently dry vacuuming the sofa to suck out all the dirt particles. Then, we scrub it with gentle cleaning water.
After that, we wet vacuum the sofa to bid farewell to all the chemicals that may remain along with the dirt. Thus, we achieve a clean and shiny sofa.
Similarly, we use fabric softeners to ensure the quality of fabric after the wash.
After all this, what do you get?
A clean and shiny sofa with a brand new look!
Book Our Sofa Cleaning in Kathmandu Now!
Professional and experienced sofa cleaning service in Kathmandu
Modern cleaning and repairing methods
Improved safety and other equipment
Faster sofa cleaning services with no hassle in work
Friendly and reliable team of staff that ensure maximum satisfaction
Advice on further maintenance
We are one of the pioneers in cleaning services based in Nepal
Over 11 years of experience in this Industry
Trusted by 1000+ customers and clients
Highly trained and skilled workers
Best sofa cleaning service provider in Kathmandu
Safest cleanings service provide in Kathmandu
Affordable Pricing for your Plans
Certified machinery and technology users in Nepal
Make a call and get to know more about our services. We provide affordable pricing plans for one-time or recurring sofa cleaning in Kathmandu.

Watch our sofa cleaning in Kathmandu video here.