Facility service provides our customer best marble and tile cleaning service in Kathmandu.
Your homes will look more elegant with marble and tile, but they are challenging to keep clean. Marbles and tiles soon lose their luster and polish, becoming drab and scuffed. A soiled marble or tile floor might offer the wrong impression to visitors, whether it is in a home or a business establishment. Therefore, expert assistance is required to handle this. Additionally, it is quite impossible to locate a professional service that is both efficient and reasonably priced, which is why Facility Cleaning Service is available.
Your gorgeous yet delicate marbles and tiles are in good hands with Facility Cleaning Services. We intend to offer one of the best marble and tile cleaning services in Kathmandu, Nepal, even if we are only currently working inside the valley. We hope to inexpensively restore your marbles and tiles to their polished and shiny state using professional tools, trained staff, and a commitment to our clients.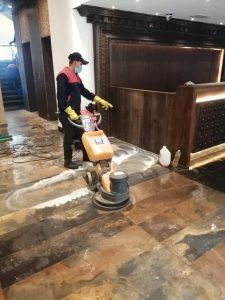 Benefits of choosing facility service for marble and tile cleaning service in Kathmandu.
The right tools and expertise for cleaning marble and tiles
Highly skilled personnel who are excellent at their job
Quick and dependable service
Thorough examination and professional guidance
Cleaning service that is reasonable and inexpensive
Consistently cleaning to perfection
Assurance of the hue, appearance, and robustness of your stones and tiles
Service tailored to your requirements
Best marble and tile cleaning service in Kathmandu

Professional Marble and Tile Cleaning Service In Kathmandu.
Most of the chemicals used to clean marble, notably acid, have an adverse effect on its surface and dull it. Cleaning and polishing are required to prevent the fragile marble and tiles from losing their luster. Your marbles and tiles will seem brand new after cleaning and polishing, but it will also help to preserve the natural characteristics that make them resilient in the long run.
Because marble and tiles are an investment in itself for the house's defense and aesthetic appeal, you must strengthen your defenses. We at Facility Cleaning Services are concerned about your home's health. Our professionals carefully examine the surroundings and provide some helpful tips on how to maintain the marble and tiles. Moreover, we strive to offer you the most effective marble and tile cleaning service in Kathmandu, Nepal, using cutting-edge machinery and qualified staff.

We are based in Shankhamul, Kathmandu, Nepal, in the center of the city, where we strive to maintain a large number of contented and pleased customers. We take care of everything, including the marbled and tiled roof, stairs, kitchen, floor, and Carpet! We also offer our services at a very fair and inexpensive price to improve the delight of our clients! Above everything, we appreciate your trust and satisfaction. A happy customer is a sign of a job well done. We provide you our services, which will help you in the long run, rather than providing you with short-term fixes.
Call us on+9779851001728 for more inquiry.