With the professional Galaicha Cleaning Service in Kathmandu, we make sure your Galaicha looks fresh and lasts longer.
Whenever you step inside a house or office, you start noticing the interior. The first thing a person normally notices is the carpet (if there is any). So, it is natural that you need to maintain the freshness and cleanliness of your Galaicha.
Our professional Galaicha cleaning services give your home, office, or organization the professional look it deserves. Most of the carpet gets damaged and needs replacing prematurely because of dirt and soil combined with rubbing from foot traffic.
The dust and stains accumulate in your carpet over time which causes degradation of the carpet fiber. As a result, it may affect your carpet or even cause irreparable damage.
Facility Service provides commercial carpet cleaning services to get rid of such problems. Our deep cleaning system uses self-naturalizing chemicals that flush the dirt and dust from fibers making your carpets clean and fresh again.
Our professionals use carpet cleaning machines, chemicals, and shampoos that are non-toxic, biodegradable, and fast-drying.
But why use such professional carpet cleaning equipment?
Obviously, for purely professional results!
Thus, we achieve complete stain and dirt removal from the carpet. And, all without damaging the property!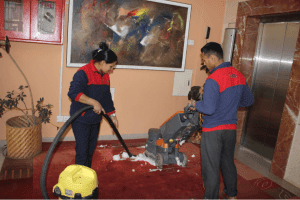 How Often Should You Clean Your Galaicha?
The maintenance of every delicate item depends on how frequently you use it. It is the same for your Galaicha. If it is at a place where there is less foot traffic, we suggest you vacuum it once a week. You can book us for professional Galaicha Cleaning Service in Kathmandu once a year in such cases.
For medium soil and medium traffic area, we advise you to vacuum the carpet at least twice a week.
Similarly, if you spot heavy soil and heavy traffic area, it is best to vacuum it 3-5 times a week. In such cases, we suggest booking our service every three months.
Now, there are some factors that can affect the cleaning cycles. Therefore, before deciding on it, take these into account – if you have pets, allergies to dust, if anyone smokes in the household, or where the heavy foot traffic areas are.
Why Choose Facility Services for Galaicha Cleaning Service in Kathmandu?
Professional and experienced carpet cleaning in Kathmandu
Advanced, deep cleaning system and process
Improved carpet protection
Well trained experts capable of handling any type of fabric
Friendly and reliable team of staff that ensure maximum satisfaction
Advice on further carpet maintenance
We are a pioneer in cleaning services in Kathmandu and have been in the business for over a decade now. Leave it to us to take care of delicate items. We make sure to remove all dirt and stains from the fabric and have new ways to clean any sofa, chair, or carpet.
Moreover, we use a stain guard to ensure your carpet is safe from future stains.
The technology and equipment we use for carpet protection ensure the durability of your carpet. Our cleaning techniques extract warm water from the carpet to dry the carpet quickly.
On top of that, we are very careful about any health hazards due to chemicals being used. Therefore, we only use chemicals that are safe for any individual, pets, and the atmosphere. These chemicals have only one job – clean and prolong your carpet's lifespan.
Make a call right now to know more about services. We provide affordable pricing plans for one-time or recurring Galaicha Cleaning Service in Kathmandu.
.
If you want to book us for
Galaicha Cleaning Service in Kathmandu
please call us at 01-4791239 or +9779851001728 or you can also message us on our Facebook page.