Keeping carpets clean and germ-free can seem like a challenge. Especially when there are kids and pets around. How do you clean carpets properly without the need of hiring a professional?
I have some good news for you! Today I'm going to teach you how to clean carpets at home with time-tested home remedies that are easy on your wallet, but tough on dirt. Some of them will even remove tough stains due to pet or food spills. So let's get started!
What causes dirty carpets? How common are allergies? How can I keep my house healthy? How do I scare away ants in my kitchen? How do I get rid of cooking odors quickly? How do I remove chewing gum from carpeting fast? How do I know if my carpet requires professional cleaning or if you have children or animals at home? Here are several options for dry cleaning carpets in the comfort of your home. This comes in handy if your rug is large.
Now we will talk about the different types of carpets, rugs and how to clean them.
Types of Carpets and How to Clean them
First of all, we will give you a brief idea about the different types of carpets and rugs that exist. How they are made and how to clean them determines the care and maintenance you should look out for. Once it is determined why they require cleaning, we can go ahead with how to clean them including home remedies too. Also, find out what not to do when cleaning your carpet or rug at home.
Types of Carpets: How To Clean Them at Home
There are many types of rugs, and we must take this into account before cleaning. Depending on the material with which it is made, we will have to use some methods and products or others.
Velvet carpets: Velvet-type carpets were frequently used in the old days as wall hangings and bed coverings. These were meant to protect people from winter colds or summer heat through their thick pile that trapped air inside
Some Handicraft professionals often use natural raw materials such as wool, silk, linen, cotton, esparto, jute, or sisal. As they are made by hand, they are also dyed with natural pigments, a very important fact to take into account for their cleaning and conservation.
How to clean carpets at Home?
Depending on the material with which our carpet is made, we will have to do the cleaning in one way or another.
The best method that exists to keep any type of carpet in perfect condition is to use a high-powered vacuum cleaner and do it on a regular basis. This is essential for long pile carpets.
To clean jute or latex rugs you should know that they are not washable, and can deteriorate with the use of water. Do not wet or submerge them, except to remove difficult and specific stains. Lastly, prevent water from penetrating the base.
In vegetable fiber rugs, in addition to vacuuming at least once a week, you can wipe with a damp cloth with water and mild soap. Make sure it is well-drained and then rinse with just water using the same procedure.
Pure wool and cotton rugs can be washed with mild soap, cold water, and salt to avoid color mixing. However, if it is large, we recommend that you take it to a dry cleaner to ensure that it is left in perfect condition.
Also important is the fact that wool rugs must be collected in summer so that insects such as moths cannot spoil them.
Carpet cleaning techniques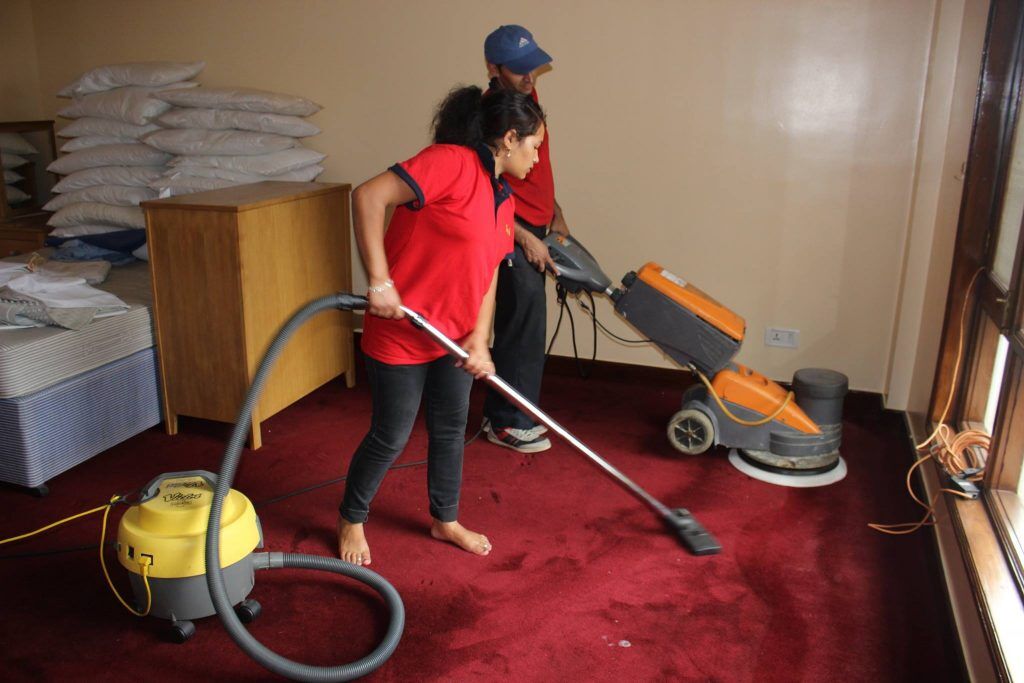 For cleaning heavily soiled carpets, especially high-pile carpets, vacuum cleaners, and card brushes are often the best options. However, bicarbonate is ideal for cleaning all types of carpets without damaging the fabrics, as well as being very effective. You just have to mix it with a little salt, spread the powder over the surface to be treated, leave it to act for an hour, and remove the remains with a vacuum cleaner. The bicarbonate frees the fabric of dust and bacteria and improves its smell.
The steam cleaner is a great alternative for cleaning all types of carpets. It removes dust and impurities without damaging the fabrics, and if you spread a little baking soda with salt on the carpet, you will optimize the steam cleaning. Run the steamer twice over the same area and let it dry completely.
Hot water with vinegar is also very effective in removing stains from your carpets. Spray the fabric with this preparation and scrub the moistened surface with a bristle brush. You will see how even the most difficult stains will be removed without problems.
For oil or grease stains, cornstarch or cornstarch is very effective. Sprinkle a little on the stain and let it sit for about 30 minutes. Then, vacuum and brush the treated area with a dry brush.
Tea Tree Oil also helps to remove stains and odors. Mix some water and about 20 drops of oil and spray the affected areas on the carpet with this mixture. Wait a few minutes and vacuum again.
Vacuum your carpets regularly to keep them clean for a longer time, but what will you do if you find that it is dirty? How to clean carpets at home? How can I get rid of pet hair on my stairs? How can I remove the smell of dogs from our carpet? How should I deal with these stains: rust marks, red wine or chocolate, bee wax or even bird droppings; we have all had moments when we wanted to know how to clean carpets at home quickly and correctlyor which stepIf you need to remove wine stains or other strong liquids, mix one tablespoon of the dishwasher with a cup of hydrogen peroxide and spread the mixture over the stain. Leave on for half an hour and use a damp bristle brush to scrub gently. Then dry the mixture with a cloth.
We hope we have helped you with the cleaning of your carpet, be it of animal origin, synthetic or long-haired carpet. There will be no stain that resists these tricks.
If you would like professional carpet cleaning services please contact us on +9779851001723 or 014791239